Process gas handling – Made by PILLER
For a wide range of industrial applications

Customer-specific industrial fans

Process gas blowers

Regeneration Blower

Fines removal blower

Regeneration cooler blower

Steam jacket blower
PILLER manufactures customer-specific turboblowers for industrial processes where pressure rises of air, gas or gas mixtures are required. Our blowers can be used in a wide range of applications including as combustion air blowers where high differential pressures (forced draft) are called for or as induced draft blowers for the conveying of aggressive exhaust gas. With their robust quality and expert design, they work reliably and energy-efficiently.
We unite high efficiency with best performance: Intelligent design, high-precision and quality workmanship make the selection of a PILLER Process Gas Blower the perfect choice in almost any application where high pressure, high temperature or a combination of both is required.
Using special components, materials and coatings guarantees optimal results even in extreme industrial services, e.g. including corrosive gases.
Benefits of Process gas blowers
Utilized in all industries
Process gas blowers – made by PILLER – are uniquely suited for the demands of any industry. Our state-of-the-art designs start with an optimized casing and impeller that are matched with the required shaft sealing system and the best fit bearing and lubrication systems including but not limited to our patented squeeze oil damper bearing system. This combined with our expertise in fabricating blowers from wear and corrosion resistant materials make PILLER Blowers the perfect solution for challenging gases containing corrosive products or abrasives.
Gas blowers for improved process efficiency
Transport and compression of gases are core operations in process technology. Wherever these operations are used in process technology, the blowers become critical to production. The design and quality of our PILLER Process Gas Blower systems are a key factor in unit operation availability, safety, efficiency and cost-effectiveness. They form the vital core of an optimized technical solution for the end user's production process.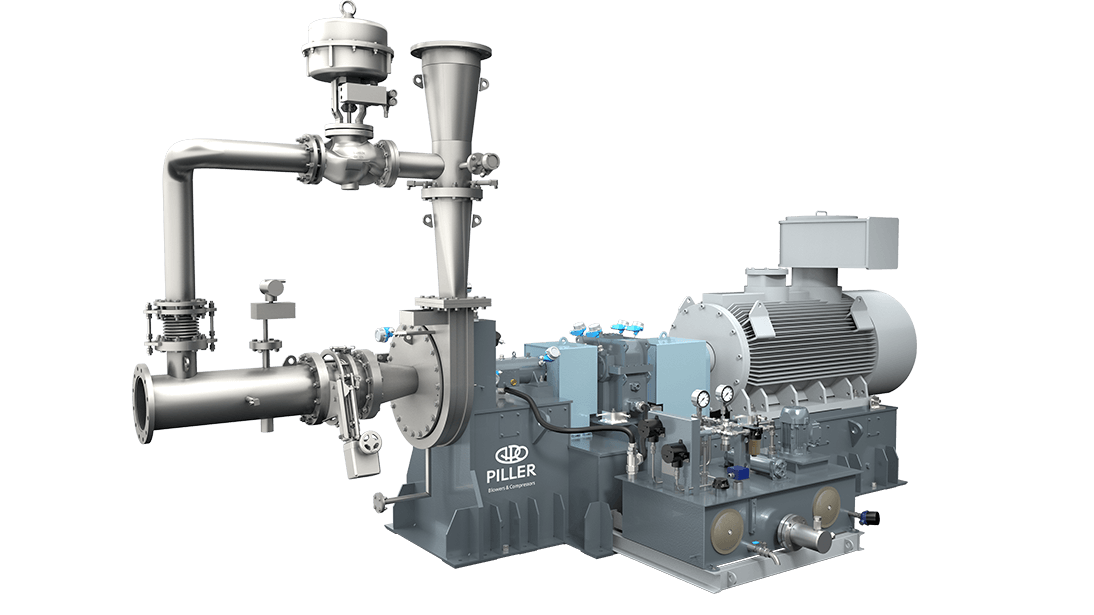 Gas blowers for reduced energy consumption
Today, process designers and developers have a paramount priority: increasing efficiency and reducing operational costs. Constantly rising energy costs are pushing process designers to always be concerned about efficiency. The trend here, e.g. in the evaporation process, is towards higher pressure rise, smaller heat exchange surfaces and less energy consumption. Our experienced engineers understand the challenges of your process and overall market conditions: PILLER Process Gas Blowers are specifically designed for increasing process pressures and temperatures efficiently – and thereby significantly reducing energy costs for a process.
PILLER offers more blower types than any other blower manufacturer: Many years of expertise enable us to achieve the ideal interaction between efficiency, cost optimization and reliability for unsurpassed performance and high ROI. The keys to the ideal overall system solution: intelligent design, precision manufacturing and superior service.
Applications & performance data
Process gas blowers in PILLER Quality
PILLER Process Gas Blowers are custom designed for industrial applications and processes. Our expertise in high alloy materials, high temperature applications, processes and blower performance helps us to provide the perfect solution for your process. Extreme conditions such as the high temperatures of CCR (Continuous Catalyst Regeneration) blowers with up to 600 degC, Sulfuric Acid Production, Continuous Polyamid 6 Production and many more are proof of PILLER Blowers reliability and performance.
Wide range of process applications
Numerous references in different applications and production methods confirm our position as technology leader and expert: providing a reliable state-of-the-art product that meets your demands.

Blowers are used in various areas of the plant, e.g. in the petrochemical industry. Any of these customized applications require high-performance blowers that are designed for reliability, easy maintenance and dependability.
| | Performance Data |
| --- | --- |
| Fluids | Air / Gas / Gas mixtures |
| Volume Flows | from 400 m³/h to 1.100.000 m³/h |
| Differential pressure | single stage up to 50 kPa (on atmospheric air) |
| Inlet temperature | from -180 degC to 1200 degC |
| System pressure | from 0,1 bar abs. to 30 bar; depending on the size of the casing – smaller casings can handle even more pressure |
Process gas blowers for toughest conditions
Under the toughest operating conditions, PILLER Process Gas Blowers combine efficiency with robust construction for reliability to ensure smooth continuous process and ease of maintenance.
When it comes to abrasive, corrosive, high temperature or combustible gases and gas mixtures, we offer application-specific solutions for your operating conditions.

PILLER specializes in centrifugal fans and blowers
Maintenance-friendly due to modular design with accessibility to the individual components for easy replacement
ATEX Zone 1/21 and 2/22
Pressure-resistant and pressure-shock-resistant design: according to Pressure Equipment Directive
Leakage-free version: seals can be provided with a sealing gas connection, blower casing in gas-tight design possible and flange connections are available with appropriate seals
Water injection for heavy material build-up (caking); self-cleaning during operation possible
Durability focused material selection
A wide range of special materials is available for your application:
Duplex and Super Duplex with high corrosion resistance and good strength values
Hastelloy®, Inconel®, and titanium for particularly aggressive environments, or for reducing media, such as acids of different concentrations or extreme temperatures
for high temperature blowers, Nickel alloys such as Inconel®, Incoloy® and Hastelloy® are common choices between 600 and 1000 degC
surface protection against corrosion and wear of parts in contact with media by using paint systems and protective coatings, such as Halar®
PILLER video – Insight into the production process
Play the video and gain an insight into our production! What workstations are there? Which high-end machines are used? How is work carried out and in which way is quality ensured?