Compact solution for MVR Systems
Mass flows between 200-5.000kg/h
PILLER offers a modular solution for low mass flow rates in MVR applications, thus expanding the product range: with the VapoFan series. As a vapor compression unit, PILLER's VapoFan is specifically designed for applications from approx. 200 to 5,000 kg/h mass flow.

Single-stage design

Two-stage design

PILLER MVR Blower solutions in comparison

VapoFan with frequency-controlled drive technology

VapoFan with frequency-controlled drive technology
Plug in and compress process vapors
The VapoFan is a vertically arranged high performance blower, which is characterized by its solid construction; and which is equipped with a high-speed motor and frequency-controlled drive technology as standard. The Plug & Play system provides a perfect solution.

The blower stands out with reliable performance, high efficiency and a large operating range.
Benefits of the PILLER VapoFan
Vertical blower design with excellent efficiency
The VapoFan is ideally suited for integration into a compact evaporator system: with minimal space requirements, independent installation locations and optimal energy consumption.
The perfectly harmonized drive unit is one of the reasons for the excellent efficiency. It consists of a synchronous motor specially developed by PILLER and a matching frequency converter in various capacities. A wide range of customer requirements can thus be covered and served.

The design of the VapoFan as a radial blower ensures reliable and smooth operation. The clearance dimensions between impeller and housing are sufficiently large to avoid any contact. Compared to rotary lobe blowers, PILLER VapoFans have an additional advantage: the flow is much more stable and the efficiencies remain constant within the wide operating range. The efficiency is up to 86% due to the ideal matching of motor and blower.
Modular MVR blower in established PILLER Quality
High quality materials are used for wetted components, among others Super Duplex (1.4501) for impeller and Duplex (1.4462) for casing
Wide field of application with just a few variants
Designed for applications with mass flows of 200 - 5,000 kg/h with dTs of 5 - 20 K: High-performance in terms of efficiency and temperature rise
Modular designed product, with immediately available 3D drawings and layouts, as well as circuit diagrams etc.
Plug & Play blower system
PILLER does not simply offer the high-performance blower, but a complete solution consisting of drive system and evaluation electronics developed in-house. The solution is available in single or two-stage as standard and can be modified with additional stages, if required. This allows even higher temperature rises. All components of this modular system could also be adapted to your specific requirements.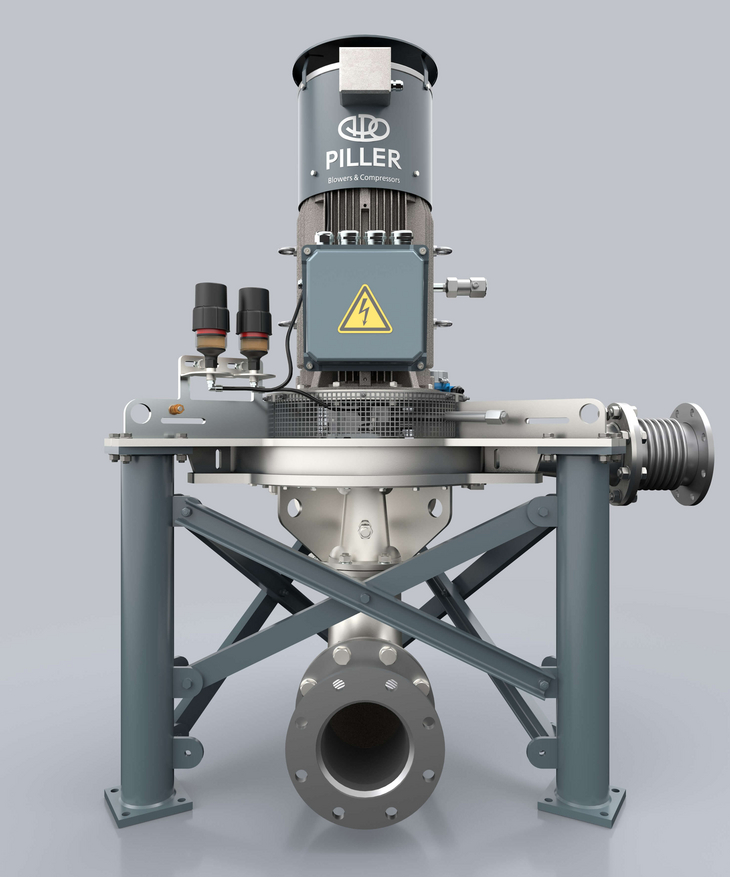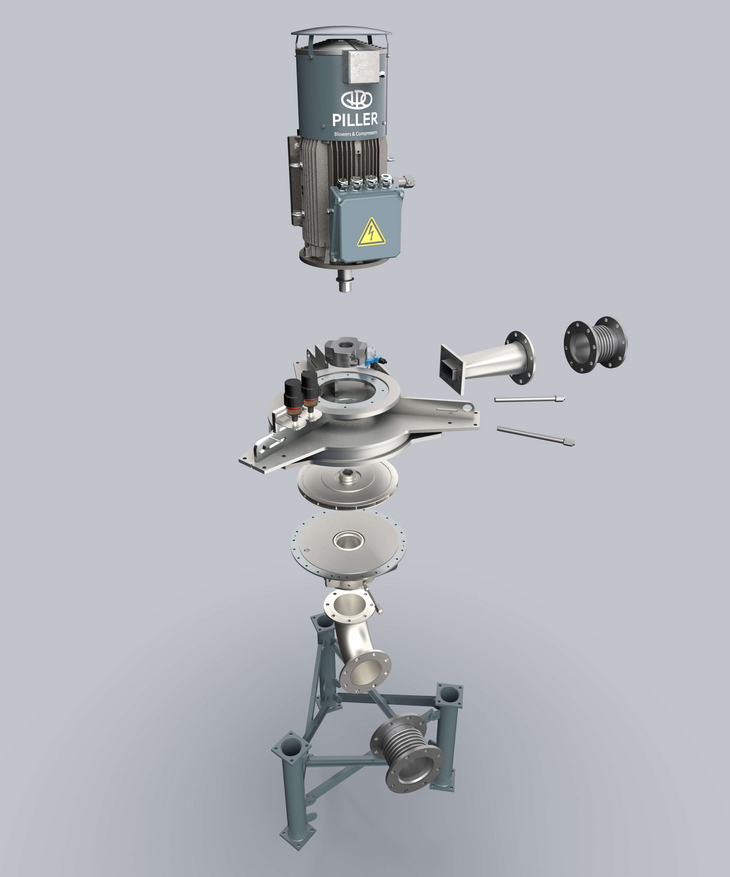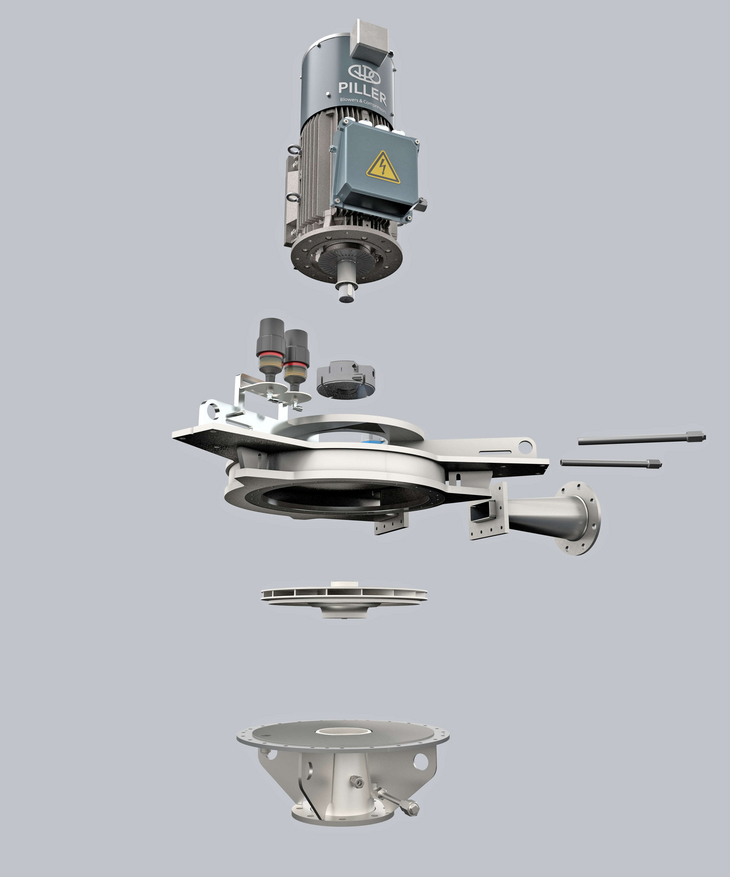 Build for low mass flows
VapoFan performance data
The VapoFan is the perfect solution for any steam compression with low mass flows. This includes applications of mechanical vapor recompression such as
Distillation,
Crystallization,
High Concentration (including ZLD, applications for wastewater free production),
Drying
or the use as booster for partial flows.
Rising energy costs and increased requirements for the preservation and protection of the environment demand actions. In the process industry, energy recovery is an essential aspect. Common applications can be efficiently engineered and energetically optimized by the VapoFan.
Compact MVR systems offer an ideal solution to upgrade existing plants but also for new plants and process extensions. The advantages: low space requirements, mobility of the equipment and fast implementation.
Another advantage our VapoFan offers, is that no grease or oil can leak into the wetted area. Therefore, the Blower is perfectly suited for applications in the food industry and for the pharmaceutical industry (water for injection, etc.).

The very flexible range of applications, due to the modular construction, offers numerous possibilities – also in innovative and visionary projects. In water treatment, the VapoFan is also suitable for unusual locations due to its compact design; for example, on board of ships or in the smallest modular plants for the treatment of industrial wastewater.
MVR Blower Design
Matched to your operation
PILLER VapoFan is available for you in 12 different, ready engineered versions – 6 types in two sizes each – covering a wide range of process conditions.
Ready to equip, also for 2-stage applications
Newly developed impellers with improved performance
Synchronous motor exclusively developed by PILLER
Self-lubricating bearings, operating lifetime > 40000h
Impeller directly on motor shaft
6 fan types in 2 sizes each
Up to 315 m/s circumferential speed
Up to 90 KW motor power
4 version of electric drive electronics: 22, 37, 55, 90 KW
Up to 10 K Temperature rise (single stage)
4-ring shaft seal with self-adjusting sealing rings
Improved protection and monitoring by instrumentation
Dimensions and weights

Weight: approx. 400 kg - 600 kg
Height: approx. 1.60 m - 2.20 m
Width: approx. 1.00 m - 1.50 m

Ambient temperature from -10 °C to 45 °C
Casing design pressure: 0.1 bar(a) to 1.5 bar(a)
High-quality casing material: 1.4462 / AISI 2205 Duplex
More Information about the PILLER VapoFan
Further detailed information can be found in our comprehensive product sheet on the PILLER VapoFan:
Piller Blowers & Compressors GmbH
Nienhagener Str. 6
37186 Moringen
Germany


+49 5554 201-0

+49 5554 201-271