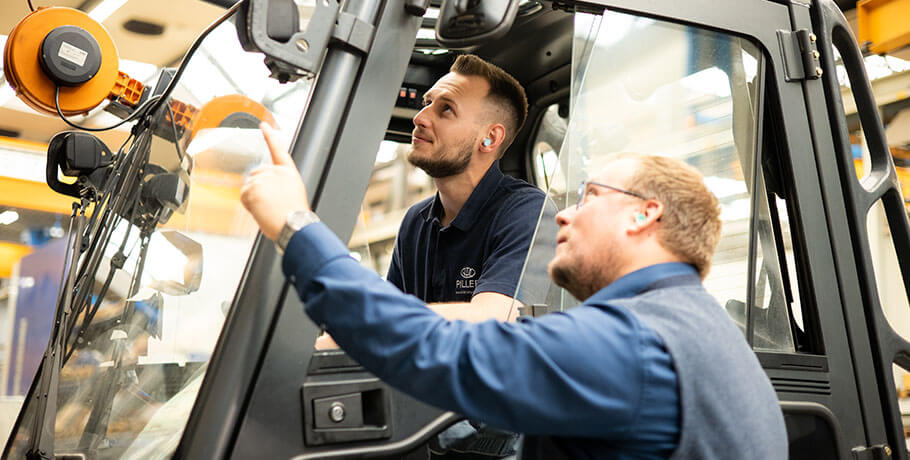 As a warehouse logistics specialist, you are the expert in the warehouse. You accept goods shipments, book them in the system and store them accordingly after quality control. During stock inspections, you check whether everything is sorted correctly at the different storage locations and make sure that sufficient material is available. You ensure the correct organization of the flow of goods in Production.
You are also responsible for picking production orders. You help to package the high-performance blowers for shipping, load them and consign them to the forwarding agent.
Specific areas:
Incoming Goods, Production Logistics, Packaging
Length of training:
3 years, shortened to 2½ years if appropriate
Training locations:
Moringen and BBS I Göttingen
Examinations:
After about eighteen months trainees take a written interim examination. The final examination takes place at the end of the training. In addition to a written part, the examination involves a practical test.
Training at Piller:
As a future warehouse logistics specialist, you will be assigned to your specialist department from the very beginning. You will spend the first month with all of the first-year trainees in our training center. There, you will learn all about PILLER and the specific features of a metal-processing company.

During your training, you will spend time in the various areas of incoming goods, picking and goods dispatch. Once you have passed your forklift test, you will use one to take the goods directly to where they are needed. You will also plan and coordinate procedures in the goods management system.
Piller Blowers & Compressors GmbH
Nienhagener Str. 6
37186 Moringen
Germany


+49 5554 201-0

+49 5554 201-271