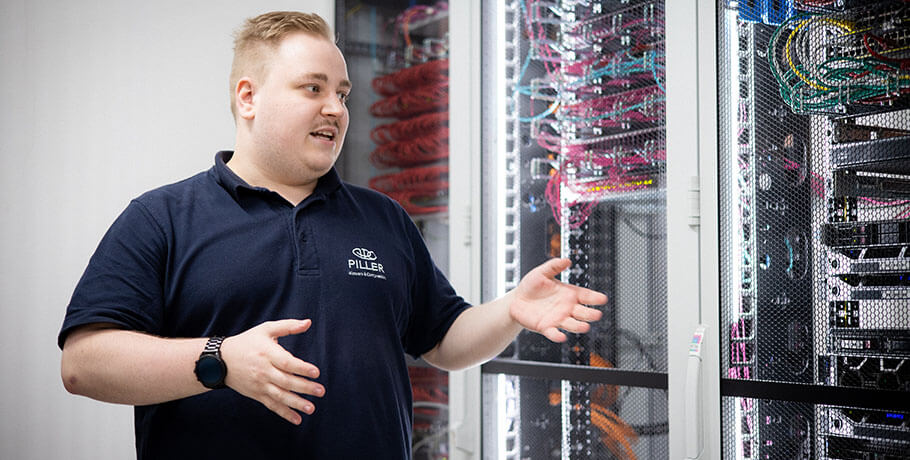 IT specialists (m/f/x) are contact persons for all matters concerning information technology. You establish information and communication systems and help colleagues with application problems. There are two disciplines for IT specialists: After two years of training, you can either specialize in application development or system integration. As an application developer, you optimize, develop and program different applications and user-friendly interfaces. As a system integrator, you install and maintain IT systems and carry out fault diagnoses and fixes in the area of hardware and software.
IT specialist training can be carried out in two different disciplines: Application development or system integration. At PILLER, training for both disciplines is carried out as required.
Specific areas:
IT department: "Infrastructure Services" or "Application Services"
Length of training:
3 years, shortened to 2½ years if appropriate
Training locations:
Moringen and BBS II Göttingen
Training at Piller:
In order to understand the specific features of a metal-processing company, the future IT specialists spend the first month together with all first-year trainees in the PILLER training center. After this, you'll be able to roll up your sleeves directly in our IT department.
There, you will gain experience of the Infrastructure Services and Application Services specialist areas. You will learn about and deepen your understanding of aspects such as programming languages and databases, and you will be introduced to various IT systems, in particular our SAP software. Later, you'll also be given the opportunity to work in the Purchasing or Sales departments to gain further business skills. The training program also prepares the trainees intensively for the interim and final examinations.
Examinations:
After about eighteen months trainees take a written interim examination. The final examination takes place at the end of the training. In addition to a written part, the examination involves a project thesis.
PILLER video – Insight into the production process
Play the video and gain an insight into our production! What workstations are there? Which high-end machines are used? How is work carried out and in which way is quality ensured?