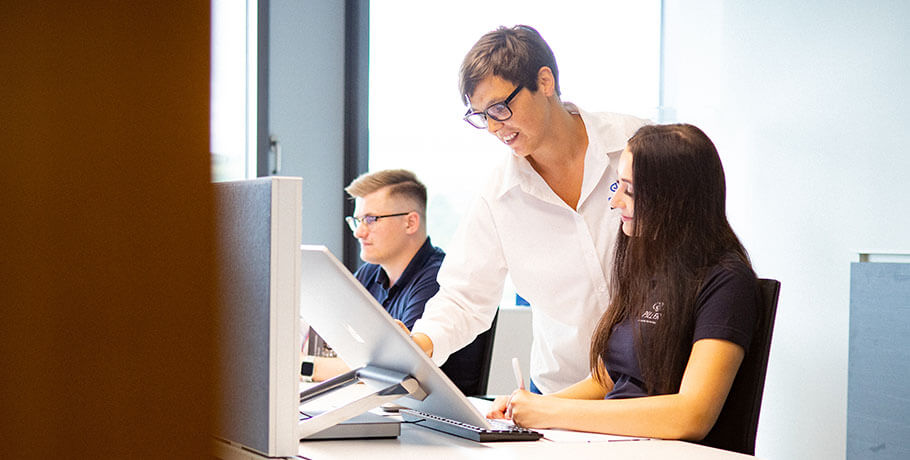 Be it materials management with purchasing and storage, HR management, sales/marketing including customer support or accounting/finance, industrial sales representatives work in a wide range of areas depending on the company. They work with state-of-the-art office communication and data processing systems. Depending on their specific area of focus, industrial sales representatives negotiate and cooperate with a range of external partners such as customers, suppliers, authorities or advertising agencies. Their activity requires confidence and ability in working with data/numbers, a commercial attitude, a skilled negotiation technique and a well-organized approach.
Specific areas:
Purchasing, storage/goods-in, accounting, HR department, marketing, shipping
Length of training:
3 years, shortened to 2½ years if appropriate
Training locations:
Moringen and BBS I Northeim
Examinations:
After about eighteen months trainees take a written interim examination. The final examination takes place at the end of the training. This examination has
a written and an oral section.
Training at Piller:
In order to understand the specific features of a metals-processing company, the future industrial sales representatives spend the first month together with all first-year trainees in the PILLER training center.

Then the industrial sales representative trainees will spend time in all PILLER departments. In accordance with requirements and also their talents, they will be deployed in sales, purchasing, storage/warehousing, finance, HR, marketing and sales.

The training program also prepares the trainees intensively for the interim and final examinations.
The Piller Working Environment
Piller Blowers & Compressors GmbH
Nienhagener Str. 6
37186 Moringen
Germany


+49 5554 201-0

+49 5554 201-271