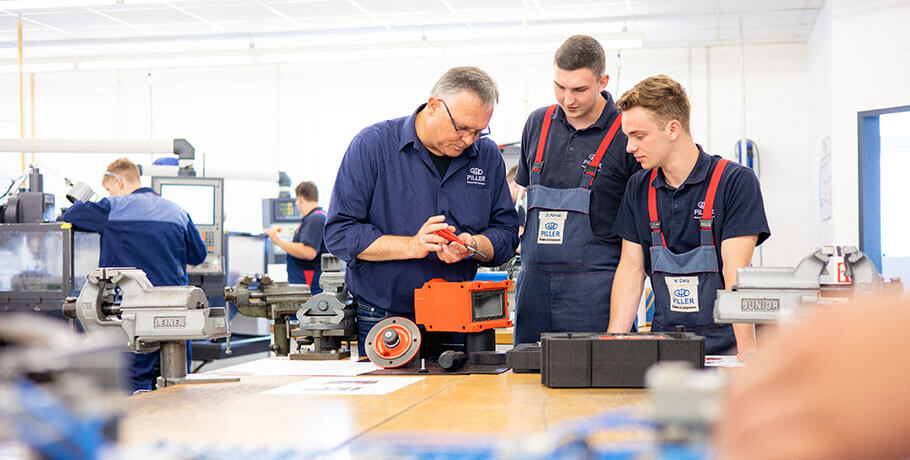 Industrial mechanics have a very varied remit. They must be able to read technical documents such as design and construction drawings, assembly and servicing plans and then derive the relevant action steps. Depending on the focus of their particular work, they assemble machines or entire plants, manufacture individual tools or modules and perform tests and commissionings. Industrial mechanics are able to control, monitor, maintain and repair production facilities. Their remit also includes analyzing and evaluating faults, acquiring spare parts or repairing them.
The training for industrial mechanics covers four different areas: Precision equipment construction, maintenance, machinery and plant engineering and production technology. At PILLER industrial mechanics are trained for machinery and plant engineering.
Specific areas:
Machinery and plant engineering
Length of training:
3½ years, shortened to 3 years if appropriate
Training locations:
Moringen and BBS II Northeim
Examinations:
The final examination is divided into two parts. Part 1 of the examination takes place after one and a half years and forms 40% of the total assessment. The second part of the examination at the end of the training accounts for 60%. Both examinations have a written and a practical section.
Training at PILLER:
The first training year covers basic training elements at our training center and includes, for instance, a metals foundation course and basic training in cutting techniques and control technology. In addition to the framework training program, industry mechanics at PILLER also take basic courses in electrical engineering and welding. The specialist vocational training then begins in the second training year during which trainees learn how to plan and execute orders and projects on their own initiative.

Also in the schedule are courses on robot technology, CNC, pneumatics and e-pneumatics. From the third training year the future industry mechanics spend time in the different production departments where they manufacture casings or impellers in main production, and in assembly they start to assemble blowers and compressors. Other departments include the repairs department, metal cutting and the testing field. In the last half year the trainees work in their future department.

The training program also prepares the trainees intensively for parts 1 and 2 of the final examination.
Piller Blowers & Compressors GmbH
Nienhagener Str. 6
37186 Moringen
Germany


+49 5554 201-0

+49 5554 201-271