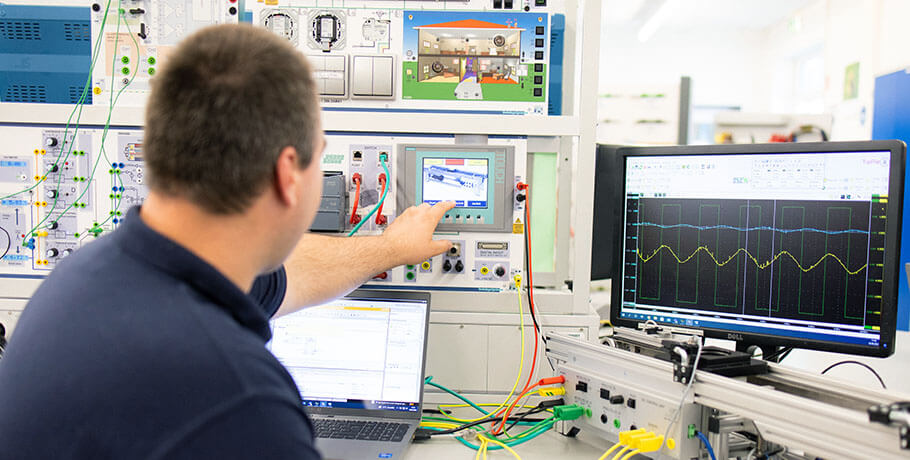 Electronics engineers for industrial engineering install and repair electrical operational, production and processing systems as well as power supply systems and communications and lighting technology. They are responsible for their servicing and modernization. Their remit also includes the handover of finished systems to the customer or user.
Specific areas:
Industrial engineering
Length of training:
3½ years, shortened to 3 years if appropriate
Training locations:
Moringen and BBS II Northeim
Examinations:
The final examination is divided into two parts. Part 1 of the examination takes place after one and a half years and forms 40% of the total assessment. The second part of the examination at the end of the training accounts for 60%. Both examinations have a written and a practical section.
Training at Piller:
The first and second training years take place at our training center which covers the basics of electrical engineering, installation engineering, control technology and robot technology.

They also take basic courses in metals technology and welding. During this period the trainees come into contact with the first production orders. The specialist vocational training then begins in the third training year during which the future electronics engineers for industrial engineering spend time in the main production and end production before they then work in the testing field or in the infrastructure department.

The training program also prepares the trainees intensively for parts 1 and 2 of the final examination.
Piller Blowers & Compressors GmbH
Nienhagener Str. 6
37186 Moringen
Germany


+49 5554 201-0

+49 5554 201-271