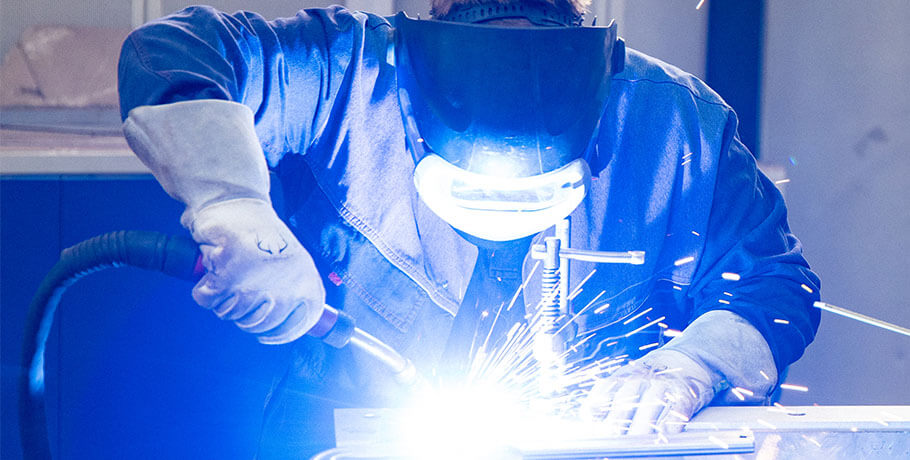 Construction mechanics have a very varied remit. After your training you will be able to produce different types metal works and structures. Accordingly, you must learn to read construction drawings and derive appropriate measurements. This and the production of various components using manual and mechanical processes, will be taught during training at PILLER. In addition to preparatory work, you will use welding equipment, punching machines, and drilling machines. You are responsible for the metal constructions of our machines, constructing millimeter-precise components out of large metal plates. What makes PILLER special? Working with different materials, from special stainless steels to titanium.
The training for construction mechanics covers five different areas: Equipment technology, sheet metal construction, shipbuilding, welding technology , and steel and metal construction. At PILLER you will be trained as a construction mechanic specializing in steel and metal construction.
Specific areas:     
Welding technology
Length of training:     
3 ½ years, shortened to 3 years if appropriate
Training locations:     
Moringen and BBS II Northeim
Examinations:     
The final examination is divided into two parts. Part 1 of the examination takes place after one and a half years and forms 40% of the total assessment. The second part of the examination at the end of the training accounts for 60%. Both examinations have a written and a practical section.
Training at PILLER:  
The first training months covers basic training elements at our training center including training such as the basic metal course and the control technology course. Our specific courses for the construction mechanic include various cutting processes with different materials. You will also learn the preparatory work such as soldering and forming by manual and mechanical bending. After this, you will start your specialized vocational training. There you will learn how to plan and carry out orders and projects independently, beside this, you will undergo primary technical welding training.

In the second year of your training, you will work in various production departments: As future construction mechanic, you will be mainly responsible for the production of casings and impellers and will deepen your welding skills – or you will assemble our blowers and compressors in the final assembly department. Other departments include quality control and the warehouse. In addition to the framework training program, construction mechanics at PILLER also take basic courses in electrical engineering.
In the last six month of your training, the trainees work in their future department. The training program also prepares the trainees intensively for parts 1 and 2 of the final examination.
Piller Blowers & Compressors GmbH
Nienhagener Str. 6
37186 Moringen
Germany


+49 5554 201-0

+49 5554 201-271